Registration and Reporting Begins June 1st!
For Infants - 6th Graders
Children who read 5 books will earn a groovy drawstring bag, tie dyed sunglasses, PLUS raffle tickets for the chance to win great prizes! For every additional 5 books, children will earn a prize of their choice from our Bookstock General Store, plus more raffle tickets for more prizes! 
The Patchogue-Medford Library is offering a new app called Reader Zone to allow busy families to easily participate in the program. Register and log your child's books online on your time!  Use the links below to download the app. 
Stop into the Library when you can for in-person book reporting, earned prizes, and of course, more books!  
Download Reader Zone using the links below!
Watch the video to learn how to sign up on Reader Zone!
The Library's code is 68205.
Teens entering Grades 6-12
Review books, movies, games, an items from our gadgets and gizmos gallery, or, a program you attended to receive a virtual raffle ticket. Raffle prizes will be given weekly! Review 5 items to get invited to our end of summer shindig!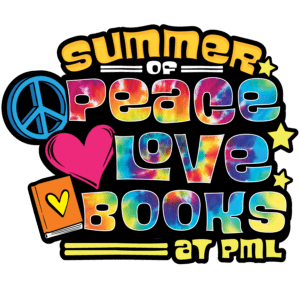 Put on your love beads (and reading glasses!) and pick up on the good book vibrations with your community! Read books and complete other library activities to earn virtual raffle tickets for a chance to win locally-sourced gift cards! Click below for all of the groovy details! 
Strive for 5 this Summer!
Did you know that all it takes to keep your child on track for school in the fall is to READ 5 BOOKS over the summer?
What is the Summer Slide? Kids who don't read over the summer fall behind their peers when school starts up again, and the effects of the Summer Slide can last a lifetime! Reading 5 books during the summer can help prevent low reading scores in the fall! With this in mind, we designed our Summer Reading Program to help you turn the summer slide into a bridge to a successful new school year!
Adult Fiction Favorites and History of a Decade
Revisit the 1960's with Retro Style Handicrafts
Stream the Sounds of Summer in the 60's...on Hoopla!
Heading to Davis Park this Summer? So are we!
 Join us for 
Storytime 

on the Boardwalk 
Tuesdays, July 11 – August 8 from 11:00 – 11:30am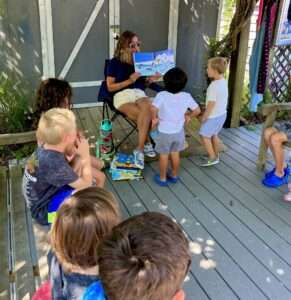 Check out this month's programs for all ages!