"Doors That Amaze" Art Exhibit on View in Claire Davidson Siegel Gallery

The Patchogue-Medford Library is proud to present Doors That Amaze, a solo exhibition featuring the artwork of Anne T. Baum. The artist's new series consist of stylistic, watercolor renderings of various doors, portals, and entryways that the artist has come across during her travels.
About the Artwork
Each image represents a new possibility as one wonders what is behind the closed door. One work on display, Untitled #1, depicts a peach-colored, weather-worn facade and a set of green doors within an ornate arch. One wonders what is on the other side, until seeing overhead a frieze of what is undoubtedly the Virgin Mary on a cloud of cherubs. The brick road suggests that the building is located in an old-fashioned urban center. But, there are no other marks that indicate the building's location.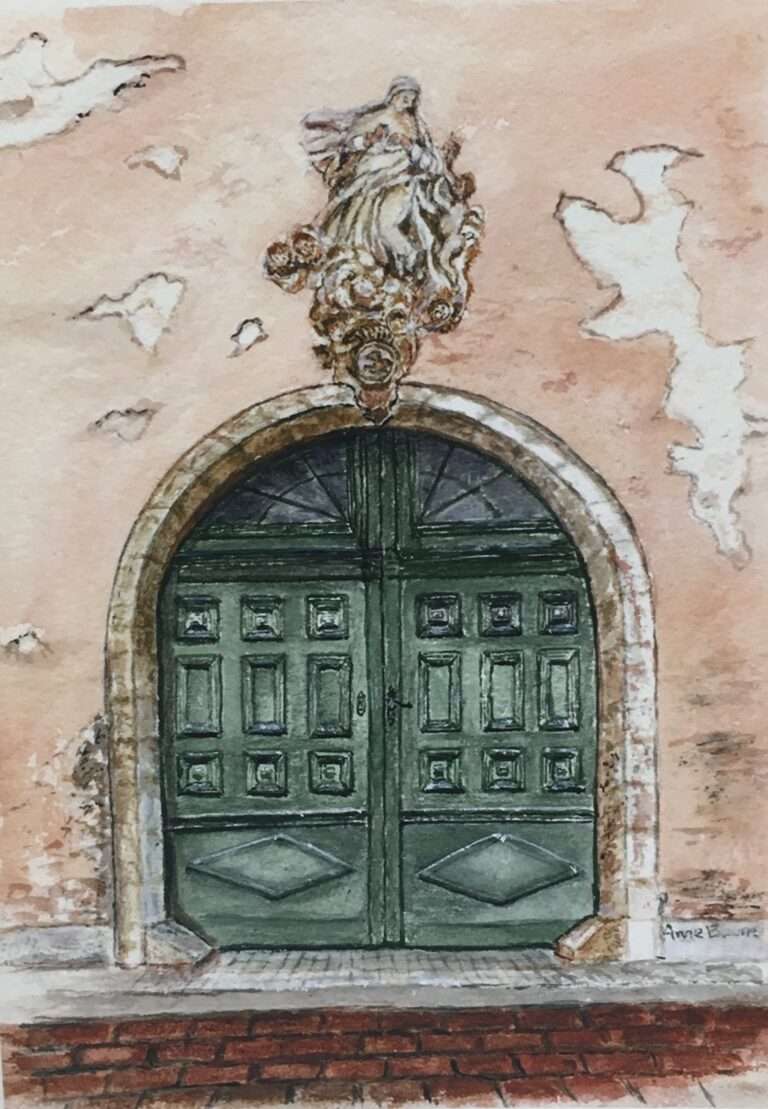 Another work, Untitled #2, depicts a simple, colonial-style, white paneled building with a pair of red-brown doors. The pediment over the entrance is plain and bell-shaped. The orange, yellow, and green leaves on the ground suggests that the work was painted in the fall. Aside from that, there are no other distinguishing features that reveal any other information to the viewer. One is left wondering where this building is and why the artist decided to paint it.
About Anne T. Baum
Anne T. Baum is a fine artist from Long Island, NY. Her photography and watercolor paintings focus on a variety of different subjects, ranging from portraiture and nature scenes to abstraction. Baum received her BA in Ceramics in 1991 from Empire State College. Her artwork has been exhibited across Long Island with select exhibits at the Long Island Craft Guild, the Gillette House in Sayville, and the Patchogue Arts Gallery.
Doors That Amaze, a solo exhibit featuring the artwork of Anne T. Baum, is on view in our Claire Davidson Siegel Gallery now through December 31, 2018. An artist reception will be on Sunday, December 9, from 2 – 4pm. All are welcome to attend.