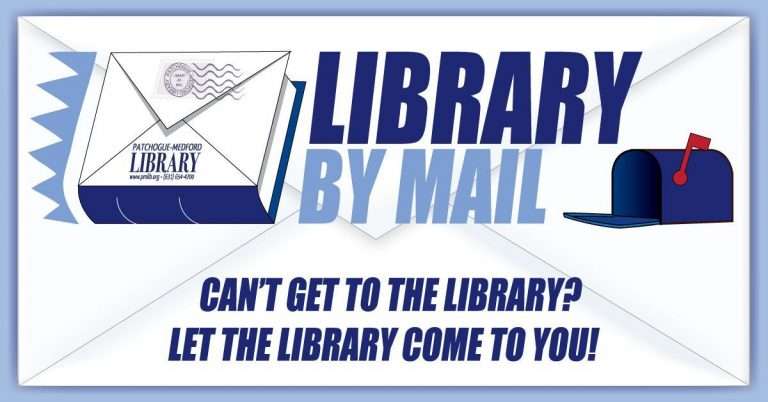 What is Library by Mail?
The "Library By Mail" service is for district residents who cannot visit the Library due to a temporary or permanent condition. This service is available to any district resident who, for whatever reason, is unable to visit the library. Library materials are selected by a librarian and sent to your home in a blue canvas bag. Receive such materials as books, DVDs, magazines, music CDs, audiobooks, etc.
Who qualifies?
To qualify, you must be a Patchogue-Medford library district resident who cannot get to the library due to a long-term or short-term challenge. This includes the following:
Short or Long-term illness.
Non-driver status (i.e. Seniors).
Visually Impaired.
Physically Challenged.
What can be borrowed?
Books, DVDs, magazines, music CDs, and audiobooks. We also have an extensive collection of books in large print for patrons who cannot read regular print books.
Is there a cost?
There is no charge nor do patrons accrue overdue charges.
How do I sign up?
If you or someone you know is interested in "Library By Mail" service, please call Philip Luppy at (631) 654-4700 ext. 232, or:
Talking Book Program
In addition, homebound patrons may be interested in the Talking Book Program administered through the Andrew Heiskell Library (NYPL) in New York City. This is a books-by-mail program that delivers thousands of recorded and braille titles postage-free. Special audio players and audiobooks are delivered by mail free of charge to the patron.
Residents of all ages are eligible for these services if they have difficulty reading standard printed materials because of one or more of the following:
blindness
visual impairment
a physical disability that limits their ability to hold a book or turn pages
a reading disability (such as dyslexia) resulting from organic dysfunction.
If you or someone you know is interested please contact the Andrew Heiskell Library at (212) 206-5400.