An Eclectic Journey: Artwork by Michael Pitocchi Now on Display in Lower Level Lobby
Now on view is the Lower Level Lobby is An Eclectic Journey, a solo exhibit featuring the paintings of Michael Pitocchi.
About the Artwork
The artworks on display exhibit a variety of different subject matters created through various painting techniques. One work in the exhibit is Funky Still Life. Pitocchi takes a Cubist like approach to this representational work. Here, the artist incorporates multiple points of perspective that allows the viewer to see the still life on the table from different angles such as from the side and from below. In this work, Pitocchi paints a still life on a table set in a red dining room. The table display consists of two plates, a vase, a pouring vessel, two coffee mugs and a bowl of apples.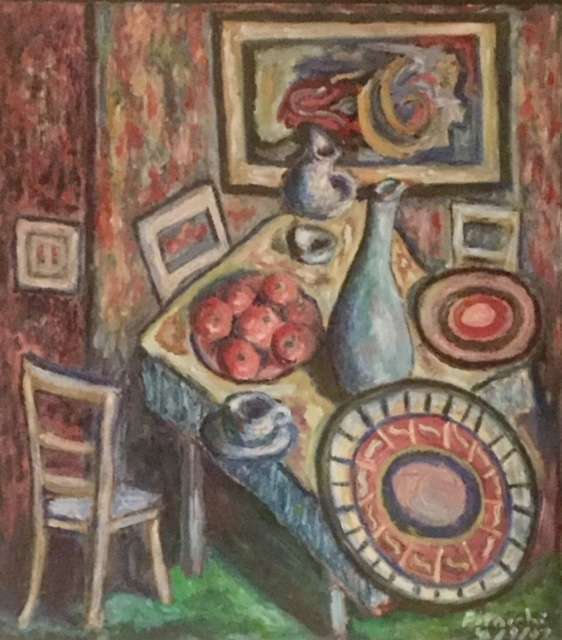 Michael Pitocchi, Funky Still Life
As with many Cubist or Formalist works of art color, line, shape, form and tone are all elements on display. The artist defines his objects with fine, dark lines that emphasize each object's shape and how it fits into the composition. The artist uses basic geometric shapes to portray his objects. The paintings on the wall are square and rectangular while the plates on the table are circular. The tonal values of objects are also on display. The vase and coffee mug on the table show gradient degrees of light and shadow. This allows the artist to allude to a light source just to the right of the composition.
About the Artist
Michael Pitocchi is a self-taught artist from Locust Valley, NY. He received a BS in Biology and Chemistry from Villanova University in 1965 and 2 Doctoral Degrees from the University of Pennsylvania in 1969. He is a member of the Huntington Arts Council, East Hampton Artist Alliance, and Southampton Artist Association. His artwork has been exhibited across Long Island with select exhibitions at Guild Hall in East Hampton, Gallery North in East Setauket and Wilkes Gallery in Northport. To see more works by the artist, click here.