"Flowers in Abstract" now on view in Lower Level Lobby
It's starting to feel like Spring down in the library. Now on view is the Lower Level Lobby is Flowers in Abstract, a solo exhibit featuring the photography of Clarence Simpson. The exhibit features a series of floral photographs that occupy the space between abstraction and representation.
About the Artwork
One work on display is Calla Lilies #2. In this picture, the artist portrays a Calla lily against a plain, white background that is washed out. The outer edges of the image are blurred, which is nicely juxtaposed against the finely detailed aspects found in the center of the composition. In this work, Simpson presents a red, white and yellow-orange lily in stunning detail that allows the viewer to study the contrast in lights and shadows found in the petals.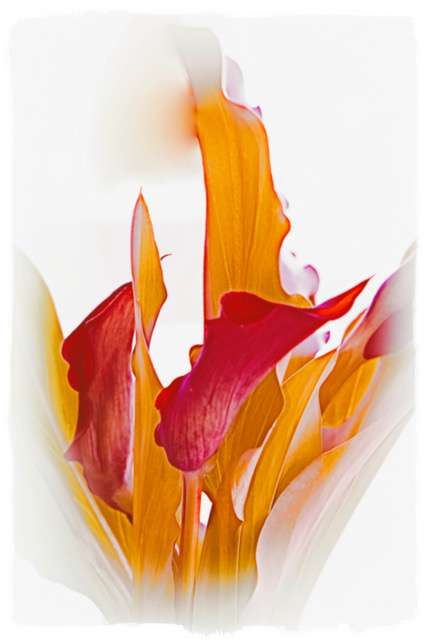 Clarence Simpson, Calla Lilies #2
Another work on display is Calla Lilies #1. As with the previous image, Simpson depicts his subject in fine detail that focuses on the flower's colorful petals. Here, the petals are a beautiful mixture of purple and tan with hints of pink and muted yellow. These works require some time to figure out their subject matter as the artist removed his subjects from their setting. This creates a 2-dimensional setting that requires you to focus on the formal elements of the flowers such as color, shape, line and form.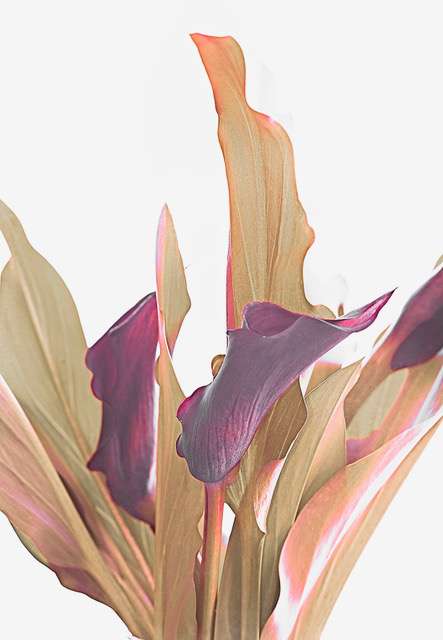 Clarence Simpson, Calla Lilies #1
About the Artist
Clarence Simpson is an Eastern Long Island Award Winning Artist and Fine Art Photographer. His artwork encompasses many subjects ranging from landscapes, seascapes, portraits, and still lives. He is most interested in street scenes and people on the street. Film, live performance and still photography are also part of his repertoire. For more information on the artist, click here.
Flowers in Abstract, a solo exhibition featuring the artwork of Clarence Simpson, is on view now through February 28, 2018.