Juxtaposed:
The Photography of Clarence Simpson
January 5th - February 25th, 2022
The Patchogue-Medford Library is pleased to present the solo exhibition, Juxtaposed, featuring the photography of Clarence Simpson. Curated by independent curator and art historian, Jay Schuck, the exhibit includes a selection of black and white photographs of Long Island seascapes juxtaposed against an arrangement of scenes of New York City. The images capture the duality of life on Long Island by representing these opposing forces. On the one hand, Long Island offers its residents proximity to one of the largest metropolitan cities in the world – a mecca of sorts for the arts, culture and finance – while at the same time providing immediate access to stunning natural vistas that have a meditative and tranquil quality for many.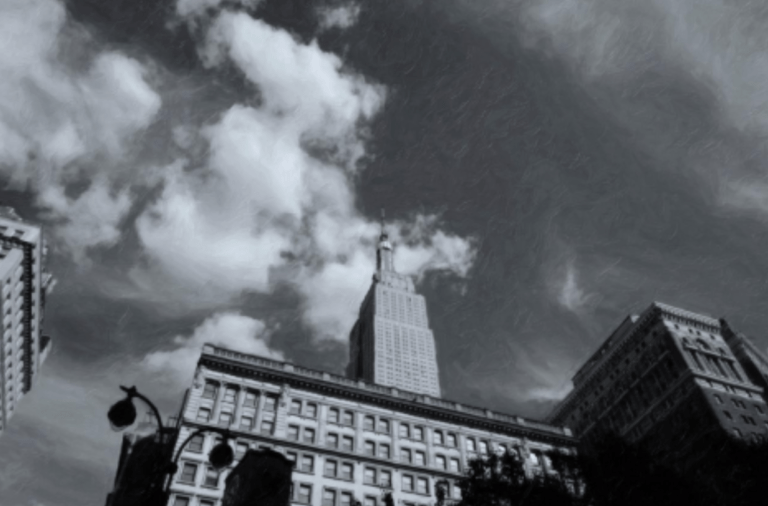 Clarence Simpson,

Empire State Building AB
Representative of his cityscapes is Empire State Building AB. In this work, Simpson points his camera to the sky in order to capture the towering skyscraper that pierces the clouds overhead. The black and white tones of the sunlit buildings against a partly cloudy sky give the work a crisp atmosphere. Once the tallest structure in the world, the Empire State Building stands as a monument to the technological prowess and economic strength of the United States in the 20th century. The building has become one of the most popular, instantly recognizable symbols of Manhattan and all that the city has to offer.
Opposite the scenes of New York City is a series of the artist's black and white seascape photographs. One such work, Veterans Day Wading River, captures one of the smaller beaches on Long Island on a partly sunny, autumn day. The absence of sunbathers gives the work an isolated quality that inspires a closer relationship to nature while reminding the viewer of the importance of taking breaks from the hustle and bustle of everyday life. Spending some time by a body of water – whether it is a lake, the bay, the sound, or the ocean – has become an almost daily routine in the lives of many Long Islanders. There are an abundance of opportunities to take in these natural vistas on Long Island that can be just as invigorating as fully immersing oneself into the New York City environment.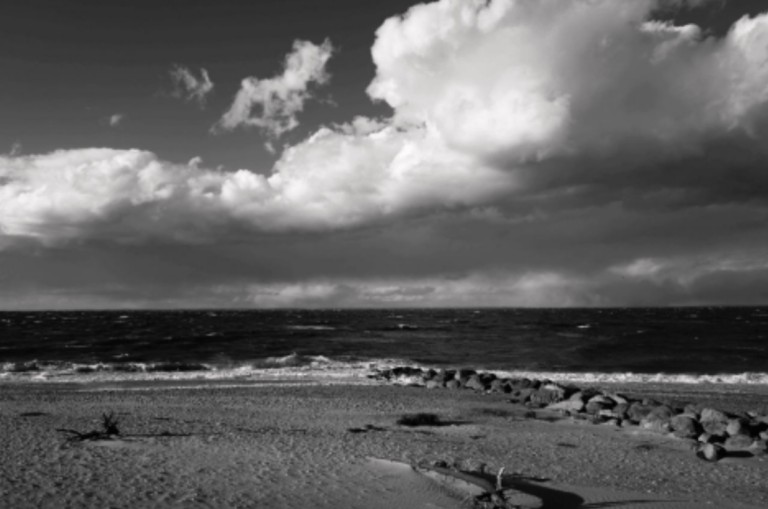 Clarence Simspon,

Veterans Day Wading River
Clarence Simpson is a photographer from Medford, NY. He received his AAS and BA in Cultural Studies, African American Studies and American History from SUNY Empire State College in Saratoga, NY. His work has been exhibited across Long Island and New York City. For more information on the artist, visit his website simpsonfoto.squarespace.com. 
Juxtaposed: The Photography of Clarence Simpson, curated by independent curator and art historian, Jay Schuck, is on display in the Patchogue-Medford Library's Claire Davidson Siegel Gallery from January 5 – February 25, 2022.