Now on view at the Patchogue-Medford Library is Melting Pot, a group exhibition featuring select artists of Family Residences and Essential Enterprises, Inc. (FREE). The exhibition was curated by Glyn Evans of FREE, and consists of a series of ancestral flags paintings that reflect the origins of the artists' families.
About the Exhibit
The exhibit consists of a series of acrylic paintings that stem from the idea that through diversity and regardless of one's background, we do great things when we come together. The artists were given a chance to showcase a piece of their ancestral history and reflect upon the paths they, or their families, took to be where they are now.
According to exhibition curator, Glyn Evans, FREE staff discussed with each artist their family history before settling on a flag that best represented themselves and their collective families. Once an artist selected their flag, they then took that flag's colors and came up with a gradient of shades. From there, they then decided on a design that would be painted in and over the flag to establish a sense of depth and pattern. When the gradient phase was completed, each artist then applied paint to create a stippling effect utilizing the flag's base colors. Finally, the artists then splattered colors of their flags onto their final compositions. This final addition creates the dynamic motion of the piece and represents the chaos and struggle each family went through on their respective journeys.
"Melting Pot allowed each artist the creative freedom over the design process, which helped to strengthen their decision-making skills and allowed them to also make each piece an original work of art." says Evans in his curator statement.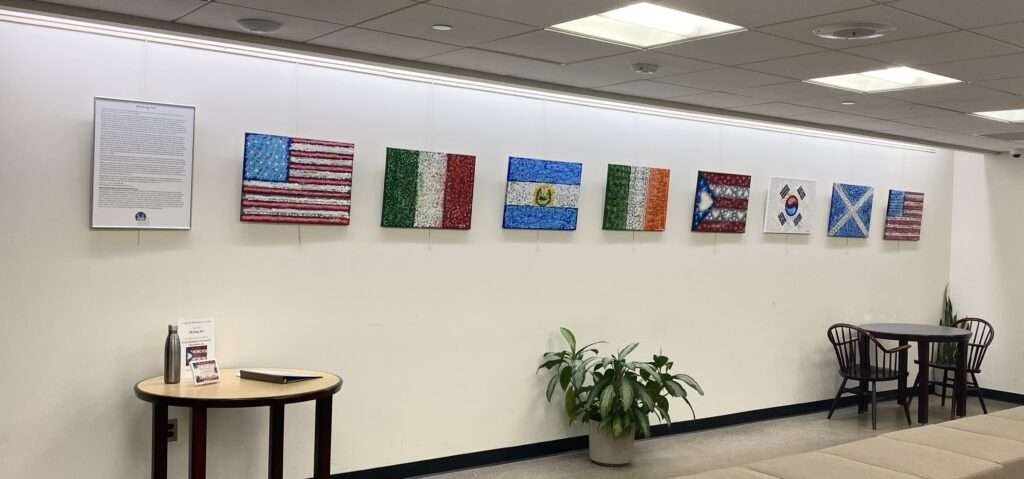 About FREE
Family Residences and Essential Enterprises, Inc. (FREE), founded in 1977, benefits and proudly supports more than 4,000 individuals with intellectual disabilities, mental illness and traumatic brain injury. It is the mission of FREE to assist individuals of all disabilities realize their full potential. FREE provides a diverse array of supports and services including housing; recovery services; transition to work; employment; day, community and family services; respite; crisis services; education and after school support; special health services; and advocacy. FREE also collaborates with a variety of diverse 501(c)(3) nonprofit partners on educational, vocational, rehabilitative and a myriad of other creative initiatives to enhance the local communities and the lives of more than 25,000 people that reside within them. Each of the value partners of the Family of FREE Network have a unique mission, vision and strategic goals that are aligned in purpose, and embody the spirit of the meaningful work we do every day. For more information, please call 516-870-7000 or visit www.familyres.org.
---
Melting Pot, featuring the artists of Family Residences and Essential Enterprises, Inc. is on view in the Claire Davidson Siegel Gallery of the Patchogue-Medford Library from March 1 to April 28, 2023. A reception will be held on Wednesday, March 29, from 10:00 – 12:00 PM. All are welcome to attend.