New Exhibit Celebrates National Hispanic Heritage Month
Did you know that September 15th is the start of National Hispanic Heritage Month in the United States?
For the month of September, the Patchogue-Medford Library celebrates the contributions of Hispanic and Latin Americans in its exhibition Nuestra Raíces/Our Roots. The exhibition features cultural heritage items generously lent by members of the library's Madres Latinas Amigas. The exhibited materials reflect the rich heritage of Ecuador, Colombia, Dominican Republic and other Latin American countries. The exhibit is on view in the Lower Lobby Gallery and in the Upstairs Display Case leading to the Children and Parent Services Department.
The Lower Lobby Gallery
The walls of the Lower Lobby Gallery feature articles of clothing, both adult and children, from various Latin American countries including Colombia, Ecuador, Mexico and more.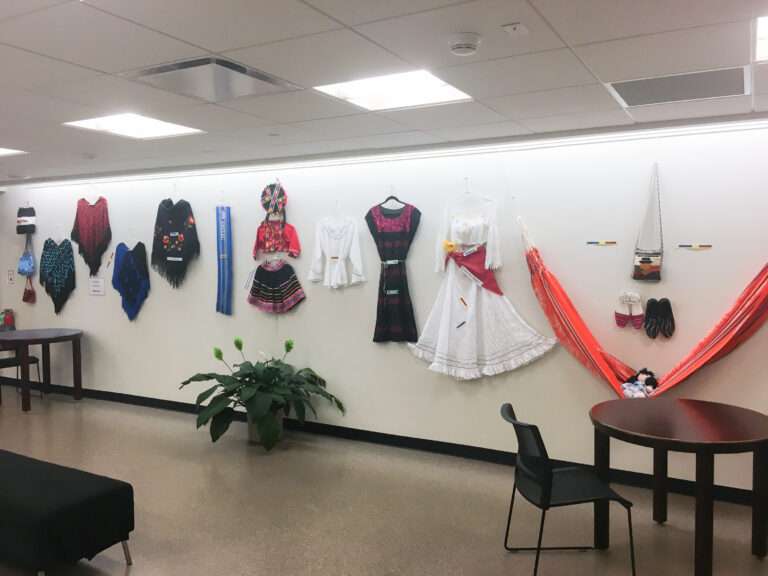 Northern Wall of the Lower Lobby Gallery, adorned with clothing from
Colombia, Ecuador and Mexico.
The north wall of the Lower Lobby Gallery features dresses and other articles of adult clothing from Colombia, Ecuador and Mexico. The hand-stitched articles of clothing reflect the distinct cultural heritage of their respective countries of origin. The clothing gives you a sense of fashion in these Latin American countries.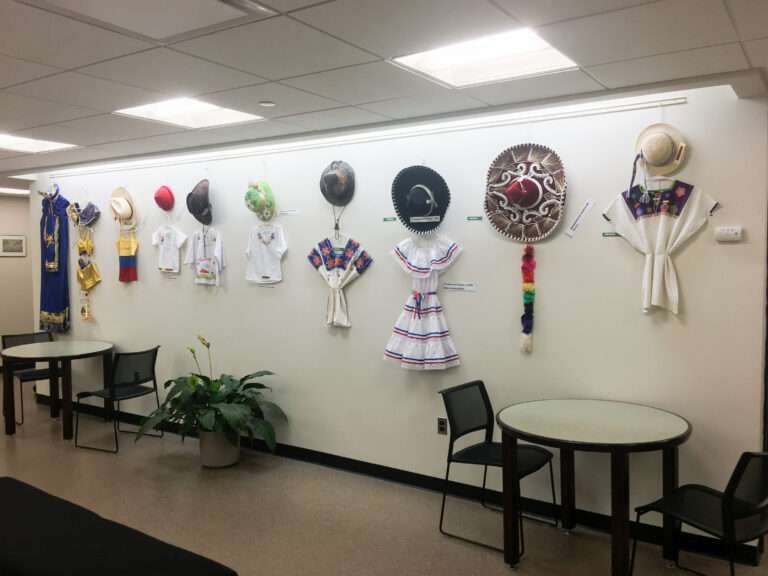 Southern Wall of the Lower Lobby Gallery, adorned with children's clothing from
Ecuador, Mexico, Nicaragua, Panama and other Latin America countries.
Across the lobby are pieces of Latin American children's clothing. Shirts from Ecuador, Nicaragua and Mexico are paired with small sombreros overhead. Upon close observation, you find and appreciate the extraordinary amount of detail and craftsmanship placed in each piece of crafted material. Of particular note is the red Mariachi sombrero with its fine display of decorative stitch work. The cultural pride in one's heritage emanates from the elaborate textile design and attention to detail found in each piece.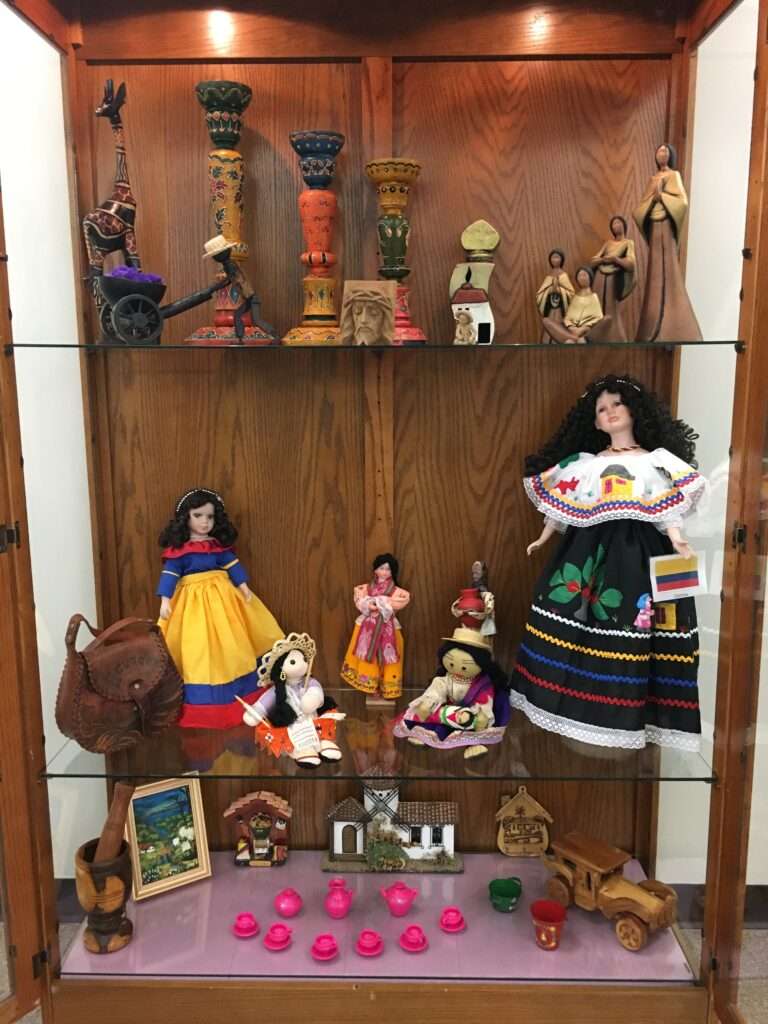 Downstairs Display Case featuring dolls, statues, and other items from
Ecuador, Colombia and other Latin American countries.
In the downstairs display case, you can find various handmade dolls, statues and other items. These objects are either religious, such as the hand-carved statue of Christ, or cultural, such as the statuette of a man pushing a cart of flowers. Of notes are the Colombia and Ecuadorian dolls on the second shelf. These dolls celebrate the traditions of their respective countries in their dress and hairstyles. Like many objects on display, these have probably passed down the Madres Latinas Amigas families from generation to generation.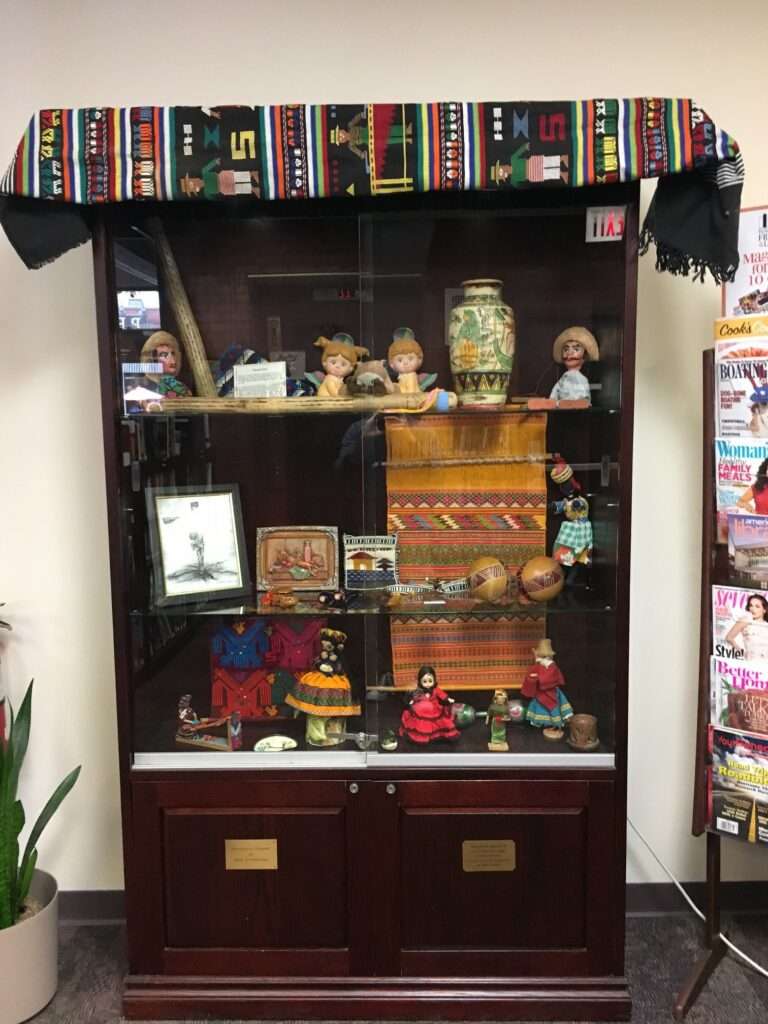 Upstairs Display Case featuring Latin maracas, rainmakers, marionettes and more.
In the upstairs display case leading to CAPS, you can find other objects of Latin American origin. This display case features three sets of maracas, two rainmakers, and two, hand-carved and painted, marionettes. All items on display are handmade and originate from Latin America.
About National Hispanic Heritage Month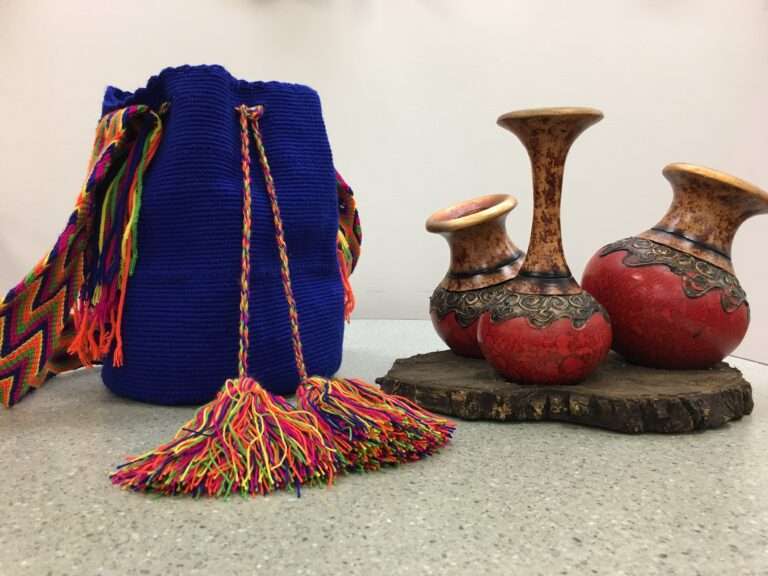 Handmade Hispanic bag and wood vessels.
National Hispanic Heritage Month is a period from September 15 to October 15 in the United States when people recognize the contributions of Hispanic and Latino Americans. September 15th is the starting point for the celebration as it's the anniversary of independence of Costa Rica, El Salvador, Guatemala, Honduras, and Nicaragua. All declared independence in 1821. Mexico, Chile and Belize quickly followed, declaring independence on September 16, 18 and 21 respectively. Click here for more fun facts.
About Madres Latinas Amigas
Madres Latinas Amigas, founded in 2010, unites the women from different Latin American countries. The group strives to share and maintain their pride in their culture, heritage and traditions. The Patchogue-Medford Library thanks the following Madres Latinas Amigas members for contributing to the exhibition: Maria Cristina Avecillas, Ericka Carey, Tania Lucero, Maria Betsaida Restrepo, Maria Rodriguez, Ruth Seminario, Sandra Silva, Maria Ulloa, Zheni Velasquez, and Carla Zeas.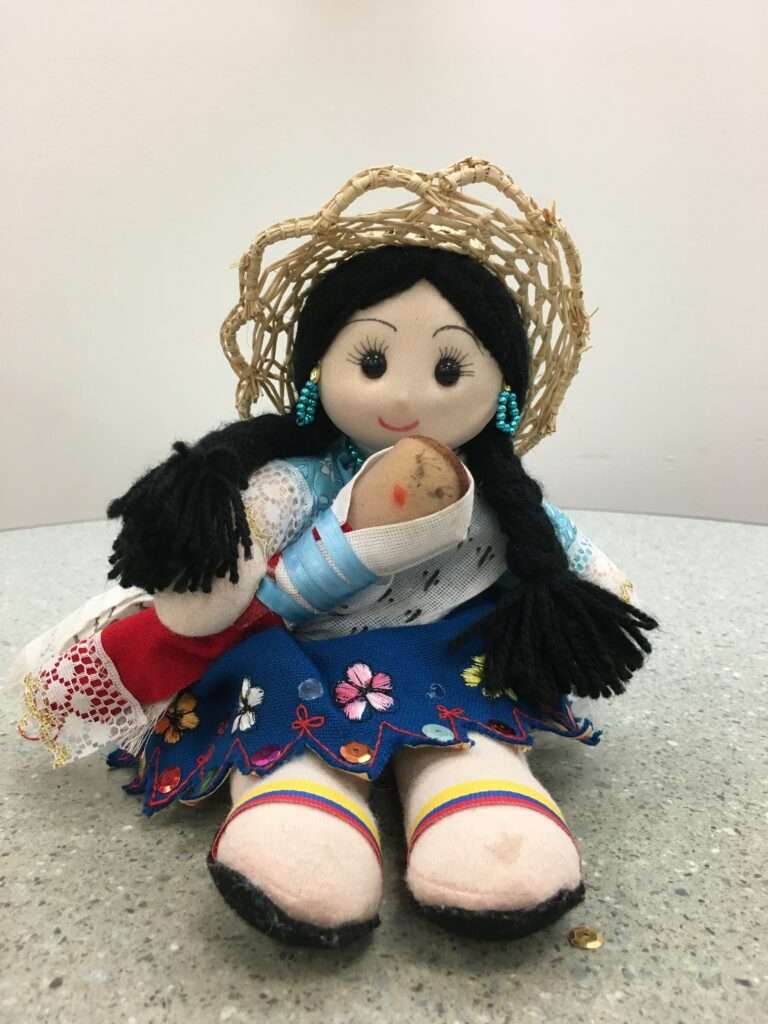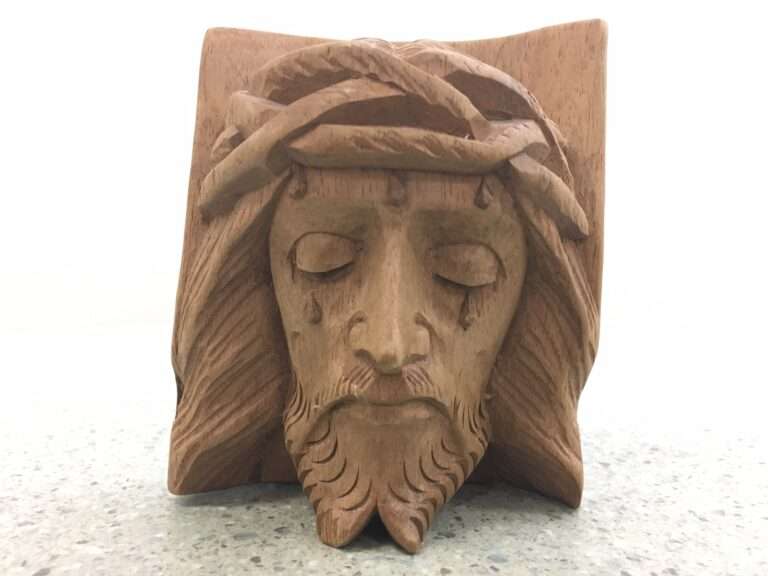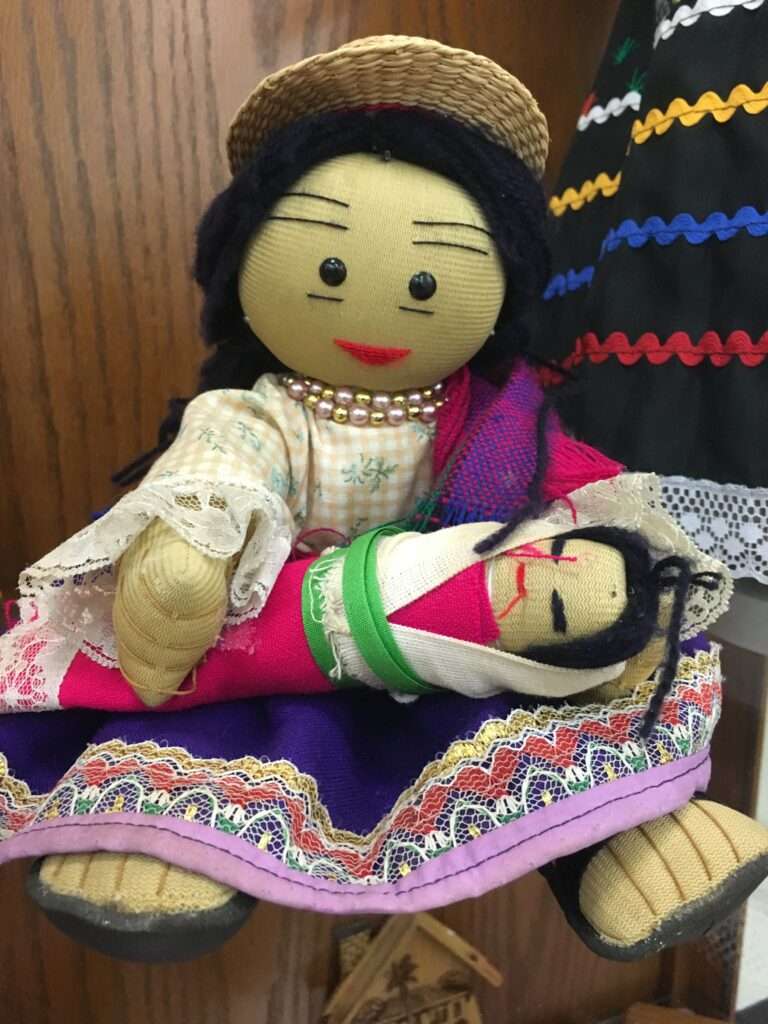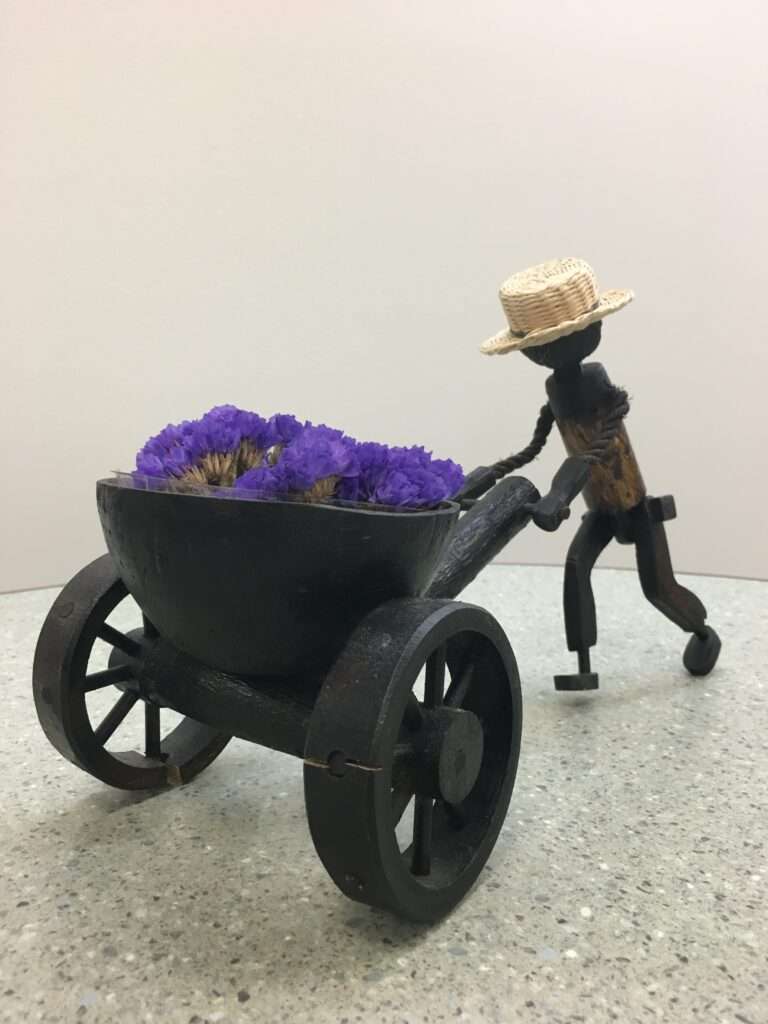 Nuestra Raíces/Our Roots celebrates National Hispanic Heritage Month and is on view now through the end of September.