Paul Jay Edelson's Abstractions of Nature on View in Claire Davidson Siegel Gallery
Now on view at the Patchogue-Medford Library is the solo exhibit Paintings by Paul Jay Edelson. The series of abstract works are inspired by the artist's appreciation for nature, specifically landscapes and seascapes. Through his artwork, Edelson strives to communicate his enthusiasm for the natural world as well as inspire a similar notion of feeling into his audience.
About the Artwork
Recalling impressions of nature in the secluded confides of his studio, Edelson continuously searches for new ways to describe his experiences in the most simplistic terms possible, often reducing his subject matter to its most basic formal elements. Case in point is the colorfully abstract View from the Train. Aided by the title, one is able to discern natural elements such as trees, clouds and fields of grass that are depicted through patches of pure color. The abstract quality of the work mimics the visual effect of being on a quickly moving train whizzing past panoramic landscapes, blurring the environment until objects are no longer distinguishable.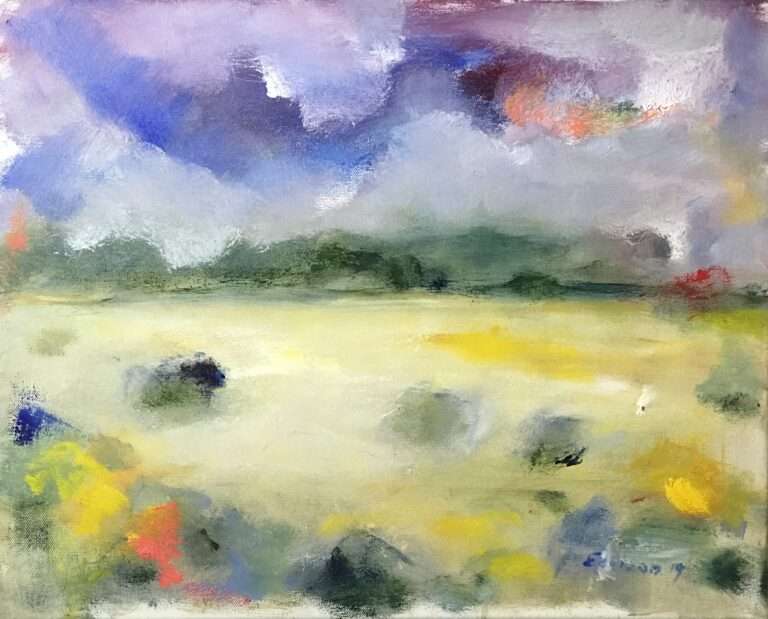 Paul Jay Edelson, View from the Train
Edelson's titles often give the viewer a hint of what is painted. Duck Blind suggest a bog-like setting with a makeshift structure used in hunting waterfowl. Often found in marshes and ponds, a duck blind is a shelter, camouflaged with reeds and grass, used to conceal hunters from their game. The atmospheric haze of the setting mutes the colors and darkens the artist's palette. The vertical splotches of red, orange, yellow and blue in the lower half of the composition appears to indict the titular duck blind, while the mid-section of the painting resembles the wetland. The work is quiet and contemplative, creating a meditative environment.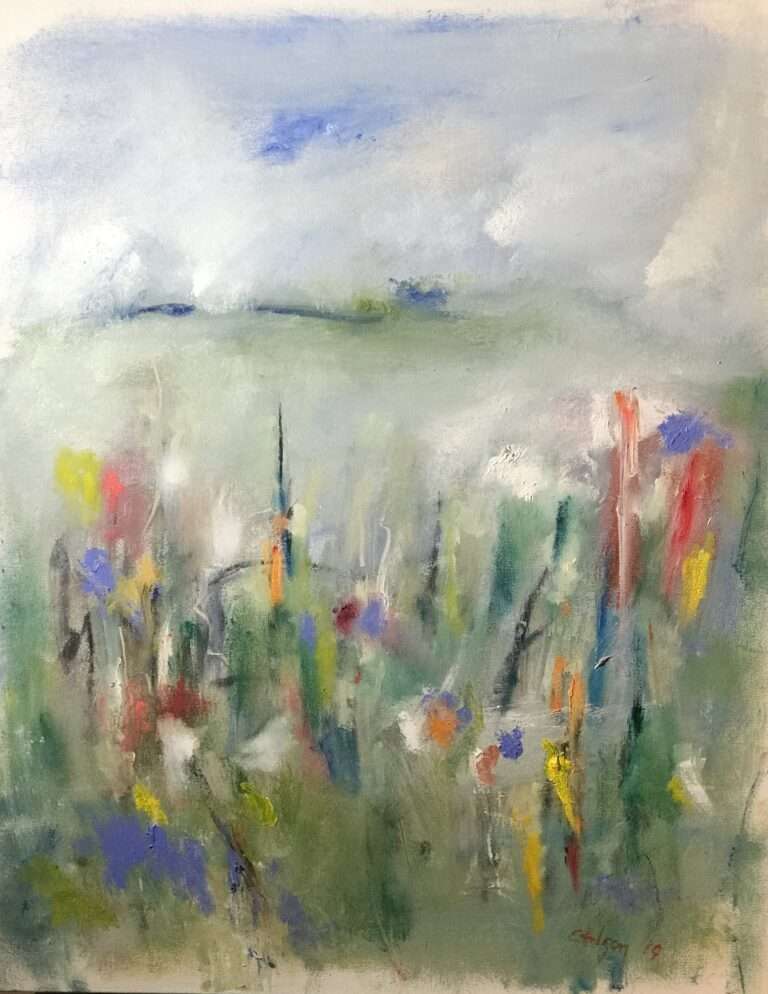 Paul Jay Edelson, Duck Blind
About the Artist
Paul Jay Edelson is a fine artist from Poquott, NY. His artwork has been exhibited across Long Island with select exhibitions at Gallery North (East Setauket, NY); the Long Island Museum (Stony Brook, NY); and the Catbird Seat Gallery (Sayville, NY). To see more work by the artist, visit instagram.com/pauljayedelson.
---
Paintings by Paul Jay Edelson is on view in the Claire Davidson Siegel Gallery, in the lower level of the Patchogue-Medford Library, from January 6 to February 27, 2020. An artist reception will be held on Sunday, January 12, from 2:00 – 4:00 PM. All are welcomed to attend.