Realistic Pen & Ink Drawings On View in Claire Davidson Siegel Gallery
Now on view at the Patchogue-Medford Library is the solo exhibit Drawings by Jeanette Martone. The series of graphic work was inspired by Martone's humanitarian efforts in the developing world. Each drawing captures a moment in time, in which the artist reveals the inner grace and beauty of her subjects that are found in the minute details of their environment. The images brings awareness to the common linkage of our humanity and the fragility of culture.
About the Artwork
The drawings stem from photographs taken by the artist during her travels to several countries in the developing world. In one work, Summer on the Sidewalk, Martone captures two school-aged girls interacting with one-another on a residential street. The children ignore the artist – and by extension the viewer – as they remain focused on each other. We do not see the younger girl's face and the overt ambiguity of their interaction leaves us wondering what is taking place. Despite what can be inferred from their environment –the truck with the open hood in the background, and the girl's bare feet –the pair project a joyful innocence that inspires a message of hope.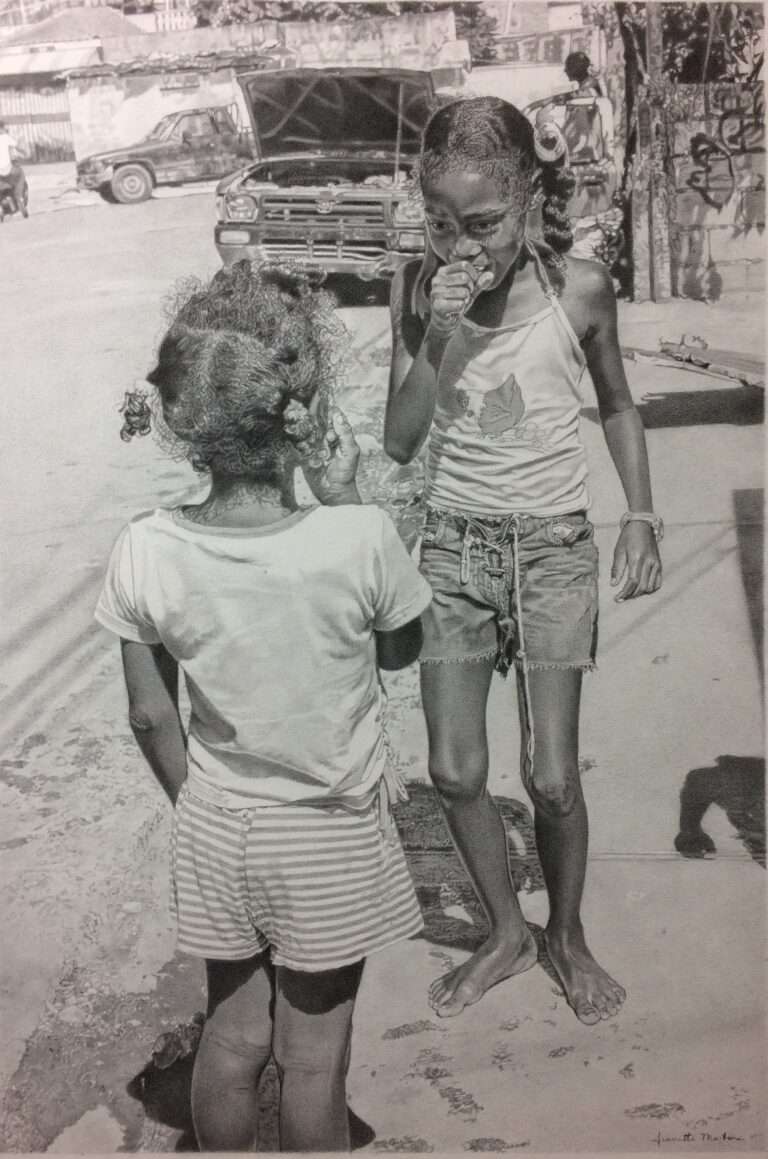 Jeanette Martone, Summer on the Sidewalk
The muted tonal range of the pencil and ink drawings allows the viewer to focus squarely on the essential elements of the work, such as the subject matter, their interactions with one another, and their environment. In With the Dog, three boys are shown resting on a bunch of large rocks. The boys seem to be enjoying a quiet moments among friends and a furry companion. None of the boys engage directly with the viewer, and their animated gestures and forms lend the composition a greater sense of movement and agitation. The quiet moment captured by the artist is contemplative as one is able to admire the artist's mastery of technique while reflecting on the precarious living conditions of her subject matter.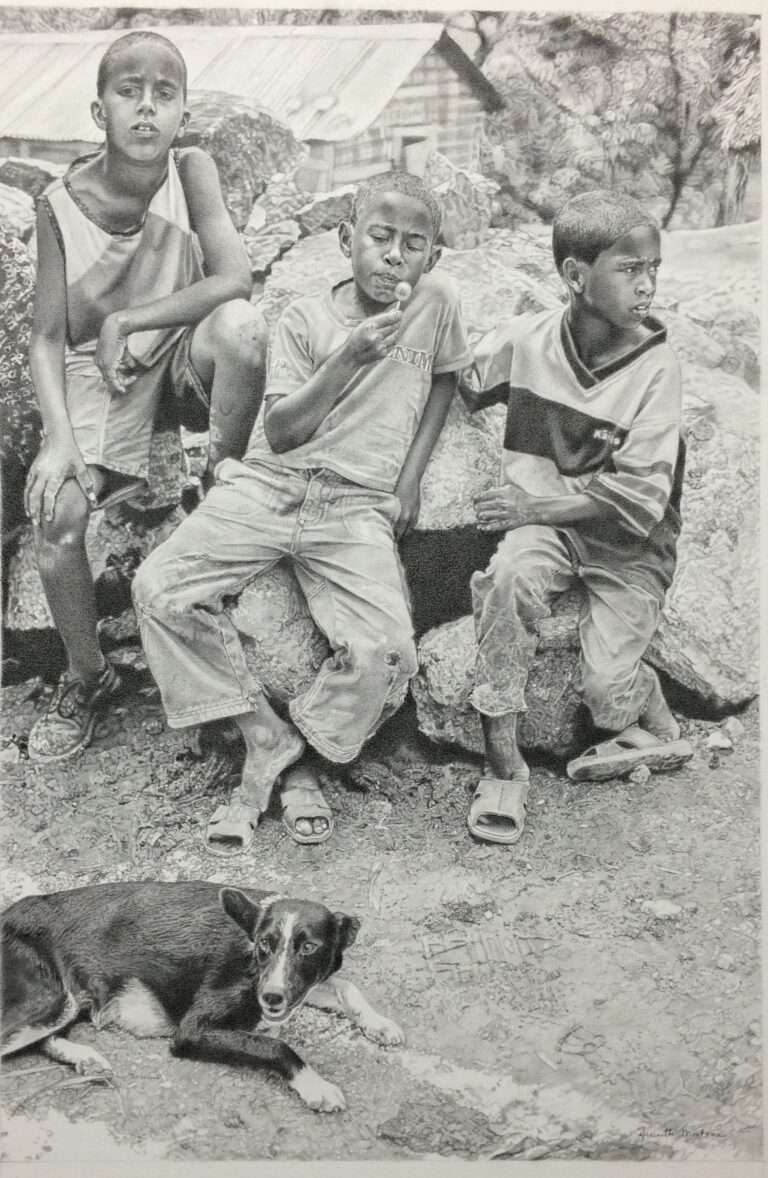 Jeanette Martone, With the Dog
About the Artist
Jeanette Martone is a fine artist from Long Island, NY. She earned her BFA from SUNY Purchase in 1978 and studied design and anthropology at the University of Copenhagen in Denmark. Her artwork has been exhibited in the US and abroad with select exhibitions at Mills Pond Gallery (St. James, NY); New York Botanical Gardens (New York, NY); and the Illinois Institute of Art (Chicago, IL). For more information on the artist, and to see more of her artwork, visit jeanettemartone.com.
Drawings by Jeanette Martone is on view in the Claire Davidson Siegel Gallery, in the lower level of the Patchogue-Medford Library, from November 4 to December 31, 2019.