Reflective Photographs by Carole J. Amodeo Now on View in Lower Lobby Gallery
Now on view at the Patchogue-Medford Library is a series of photographs by local artist, Carole J. Amodeo. The exhibition, titled Reflections, features 12 photos of storefront displays in Greenport, Patchogue and Port Jefferson. Each piece blends together the scenes behind the windows and the street imagery that reflect off the glass.
The Artwork
In her series of work, also called Reflections, Carole simulates the experience of strolling down bustling city streets. Her photos depict multiple storefront displays while capturing the sounds of traffic and various street scenes that reflect off the store windows. Her photography inspires notions of consumerism, fashion, and the hustle of metropolitan life.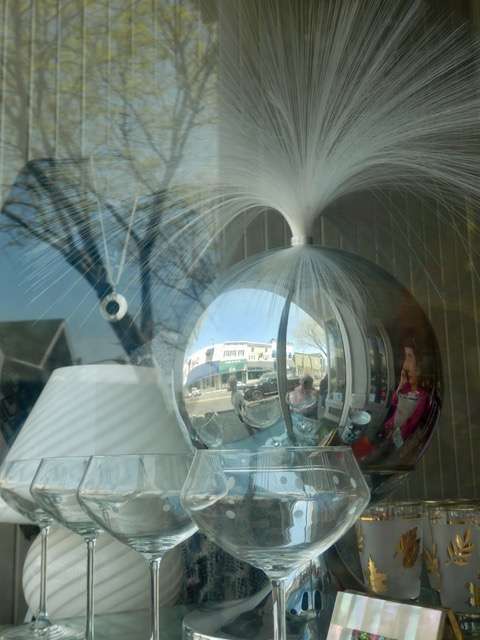 Carole J. Amodeo, Greenport, 2016
One work on display is Greenport. The white-and-silver-toned piece depicts an arrangement of four, large wine glasses and gold leaf embossed cups. What attracts you to the piece is the large, silver sphere that is cradled in a curved display stand. The object spouts white thread from its top and its concave reflection projects the busy street scene outside the window. In this reflection, you can find the artist and her camera, the manager of the store in red taking a phone call, and a passerby standing outside on a clear, blue-sky day.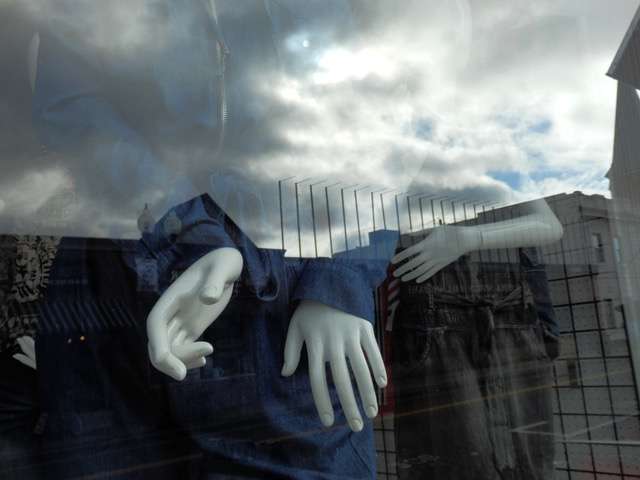 Carole J. Amodeo, Reach Out, 2016
Another work on exhibit is Reach Out. It doesn't take much to recognize the familiar imagery of South Ocean Ave. in Patchogue. Two mannequins appear behind the glass. Their faces are out of the frame, but their plastic, white hands are on full display. The reflections on the window depict the now vacant, Long Island Sports Museum and other South Ocean Ave. businesses such as the barber shop and Karl Ehmer's. The top half of the composition consists of clouds and Carole arranges the photo so it appears the mannequin's hands emerge from the sky.
The Artist
Carole J. Amodeo is a fine artist from Patchogue, NY. She is a member of the Women Sharing Art, Inc., and the Patchogue Arts Council. Her artwork has been exhibited across Long Island with select exhibitions at Gillette House in Sayville, NY; Patchogue Arts Gallery in Patchogue, NY; and Studio 5404 in Massapequa, NY. She has been published in The Photographer's Edge, Sayville Gazette, and the Patchogue Chamber of Commerce Magazine. For more information on Carole, click here.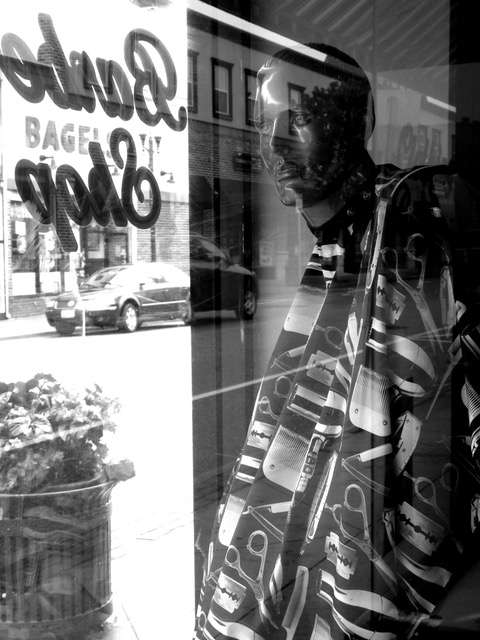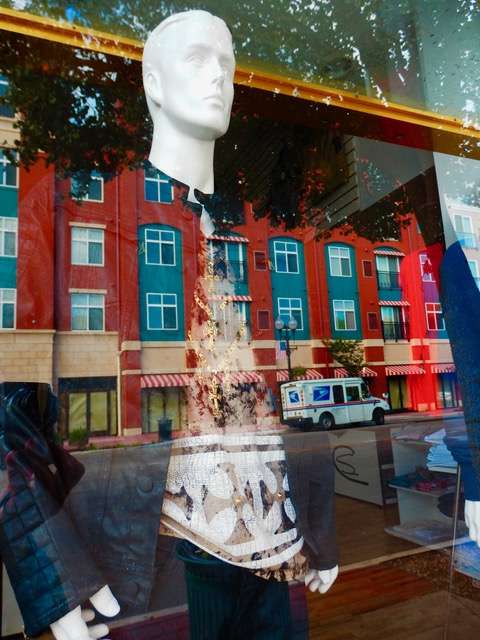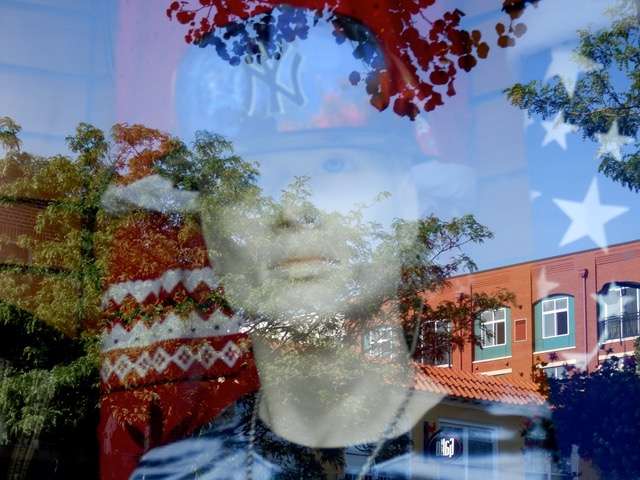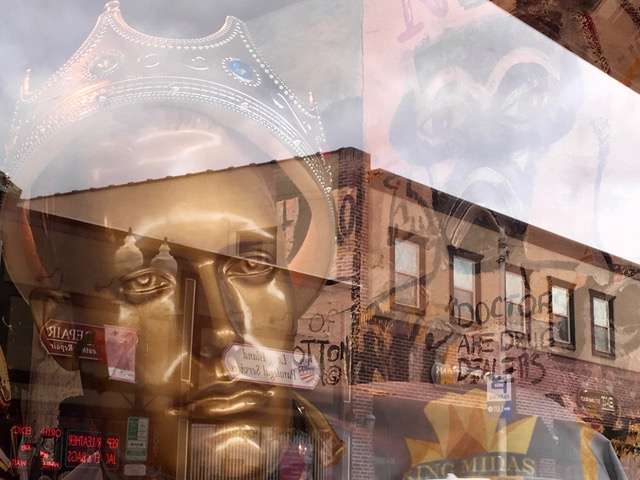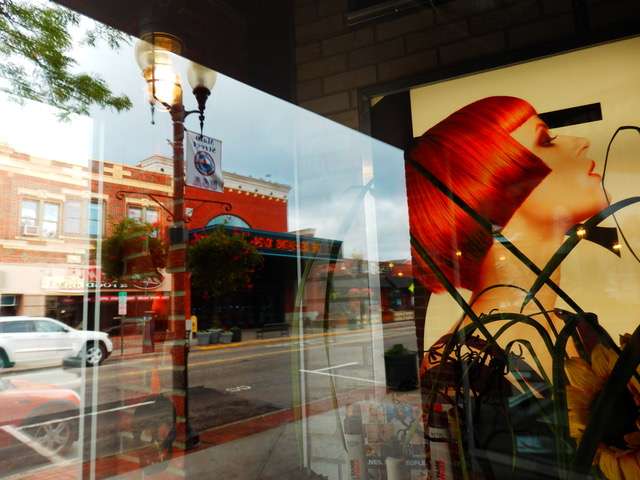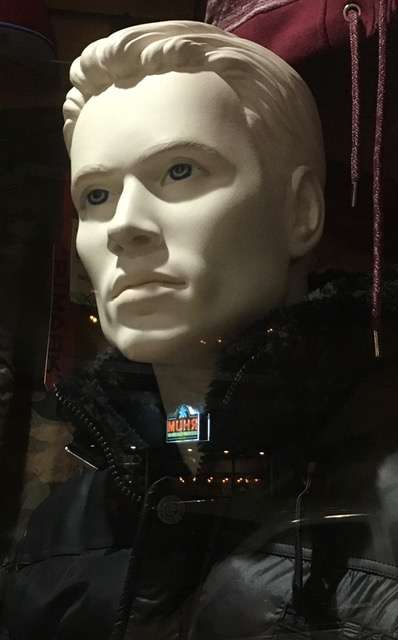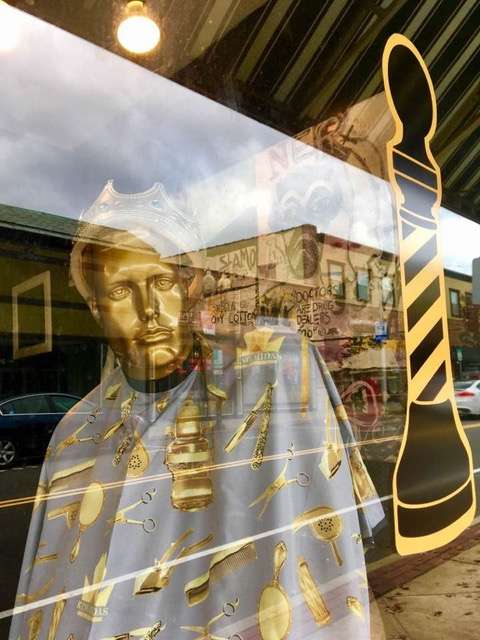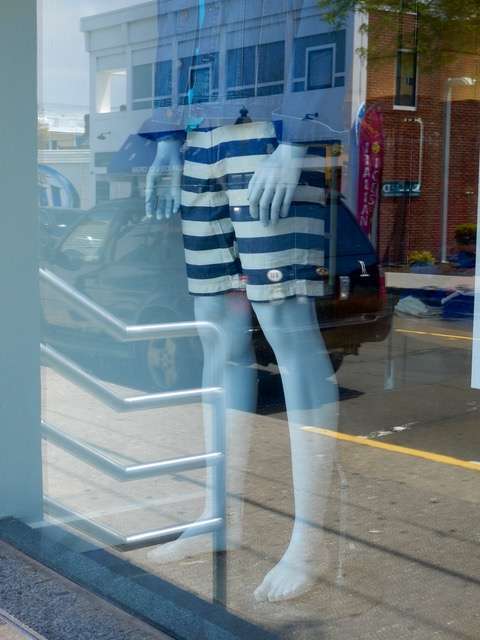 Reflections, featuring the photography of Carole J. Amodeo, is on view in the Lower Lobby Gallery of the Patchogue-Medford Library now through the end of August.