Scenic Great South Bay Seascapes by Mike Busch Now on View in the Lower Lobby Gallery
Hello summer! For the month of July, you can visit many of Long Island's picturesque beaches and inlets. All from the comfort of your local library!
Now on view at the Patchogue-Medford Library is a series of seascape photographs by local artist, Mike Busch. The exhibit, Great South Bay Images, features scenic, ocean-side photographs that inspire notions of summer, fun and relaxation. The artist uses the Long Island landscape as his main source of inspiration, but some works depict places the artist has traveled to, as well.
The Artwork
Busch's artwork has a timeless quality; blending a mixture of sun, sand and sea. Many of his works have no people; allowing Mother Nature the spotlight she deserves. Select works only hint at mankind's place in the world and are in the guise of abandoned boardwalks and sea-side buildings. Other works abandon the boardwalk and focus on just the sandy dunes and calming, ocean water.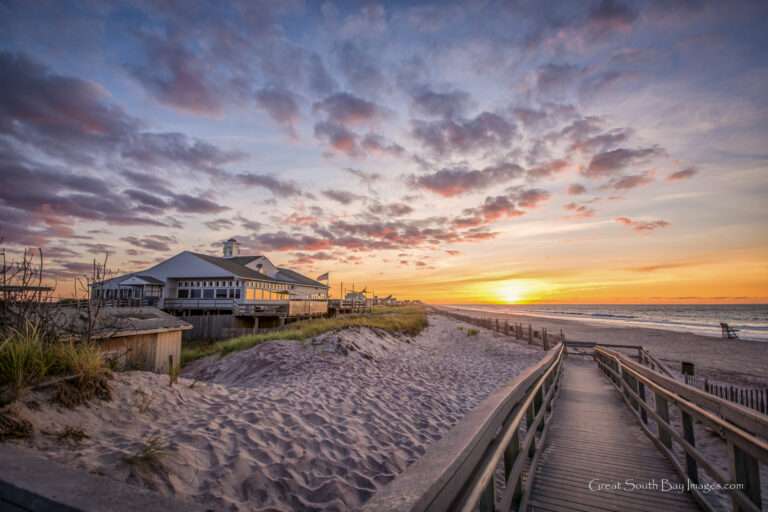 Davis Park Casino © 2017 Mike Busch
One piece by the artist is Davis Park Casino. Aptly named for the beach-side casino, the photo depicts the building on a summer morning before anyone else has arrived at the beach. The sun is starting to rise over the water, far off in the back, right-hand side of the composition. The sunrise is balanced by the casino, which reflects the sun's rays off its windows. The sand mounds are abundantly highlighted, offering us a tranquil moment of relaxation as we reflect on the image and imagine ourselves at Davis Park.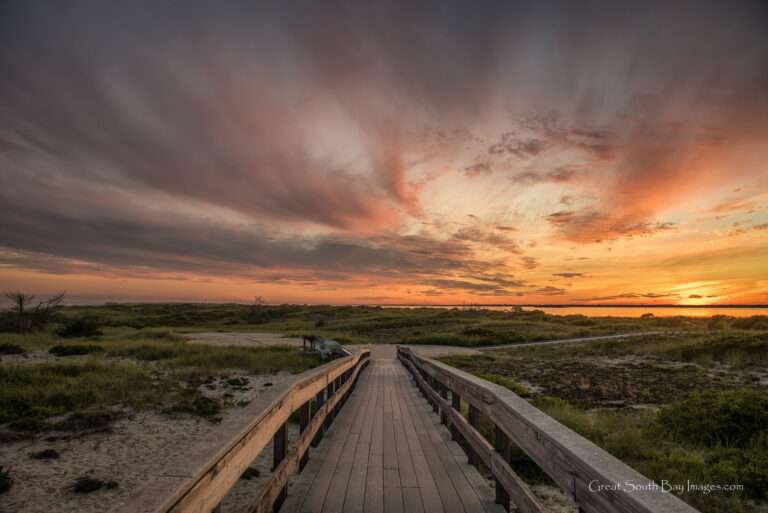 September © 2017 Mike Busch
Alongside the artist's beach-side scenes are several works that depict the rhythmic flows of crashing waves. Representative of this is September. The black and white photo depicts a curling wave that crashes on the shore. As with many of his pieces, the photo transports you away from the library to the beach, sitting on the sand with your favorite drink in hand.
The Artist
Mike Busch is an award winning photographer from Long Island, NY. He has been a photographer for over twenty years. He focuses primarily on seascape photography, using Long Island's many scenic seascapes as his subject matter. Busch is a member of the Brookhaven Arts Council and South Bay Art Association. To see more works by the artist, visit www.fireislandandbeyond.com and www.greatsouthbayimages.com.
Great South Bay Images, featuring the photography of Mike Busch, is on view in the Lower Lobby Gallery of the Patchogue-Medford Library now through the end of July.